Dear Mr. Dawson,
With a heavy heart, I am writing to inform you that your son Lewis was killed by a bear. I was his companion and his friend.
Some of us were hunting and a few others cooking, and a couple of men had gone off picking some grapes. Suddenly, a gun was fired and the cry of a grizzly bear was raised. We were all armed in an instant, and each man ran his own course toward the sound of the desperate animal. The area where we were camped contained ten or twenty acres of thick brush into which the bear had run for shelter. It lay close to the ground, undiscovered until Colonel Glenn and Dawson were within a few feet of it. Then it sprung up and caught Lewis Dawson, instantly pulling him down into the thicket. Sadly, Colonel Glenn's musket rifle misfired, or he would have relieved the man then and there. That's when a black and tan female dog that belonged to Dawson attacked the bear with such fury that the wild animal left the man and pursued his dog for a few steps. Dawson got up and ran, but after only a few steps the bear left the dog and overtook him. When the Colonel attempted to fire a second shot, his weapon misfired again and the tenacious dog, just as before, relieved Dawson who again attempted to run. But the bear seemed intent on destroying the man. The colonel ran up close but now his gun would not fire at all. The courageous black and tan dog made a stand, but now the colonel had become alarmed.
"There's a tree standing within your reach, Dawson!" the colonel exclaimed and tried to help Dawson start climbing.
But the bear caught him by one leg and drew him back down the tree.
As for myself, I was down the creek below the brush when I heard the dreadful screams of a man in the clutches of a bear. I heard the yelping of the dog and the beckoning of other men to, "run, run, run or the man will be killed!" But I knew the distance was so great that I could not get there in time to save him. It appears his head was in the bear's mouth at least twice. His wounds were sewn up as well as could be done by men in our situation, having no surgeon and no surgical instruments.
Afterward, Dawson retained an understanding of his surroundings, but said, "I am killed. I heard my skull break."
We were willing to believe he was mistaken, as he spoke cheerfully on the subject until mid-afternoon of the second day. Before he passed, Dawson spoke to me of his black and tan dog. He called her Duchess, and said she was a mountain shepherd dog from the upcountry on Walden's Ridge. He asked if I could look after her, and if ever made it to Sequatchie Valley in Tennessee, could I please stop by Dawson's Ranch and tell his family what had become of him. I told him I would take care of Duchess, but I am not sure when I will be able to make it back east. I told him I would write you immediately. Duchess is in good shape, and I am in possession of Lewis' personal effects.
Yours truly,
Rane Grinder,
November 3rd, 1827
Get AFSI, Our Quarterly Printed Newsletter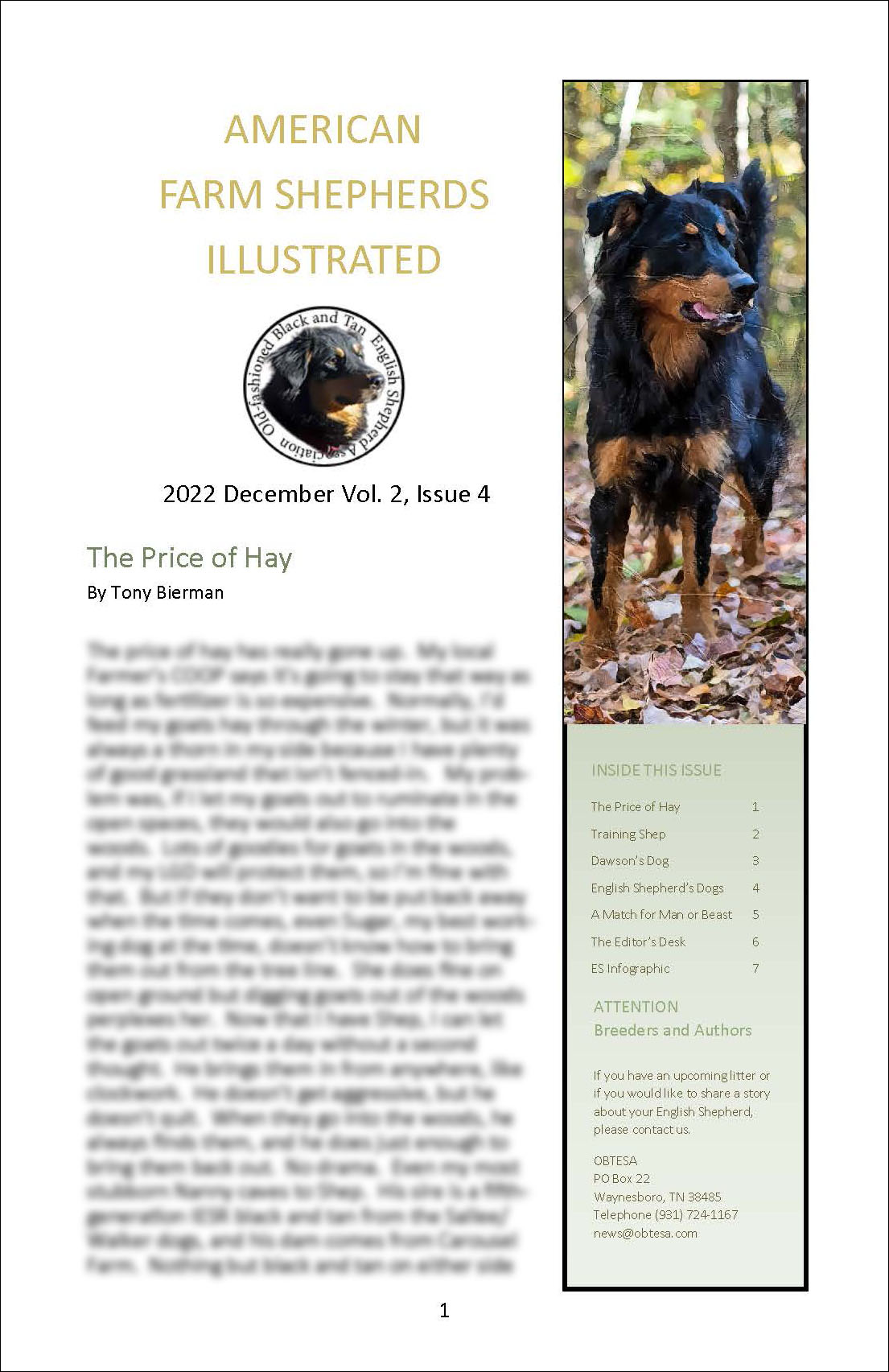 American Farm Shepherds Illustrated Annual Subscription – Old Shep's General Store
The Old-fashioned Black and Tan English Shepherd Association is a Tennessee non-profit public benefit corporation.