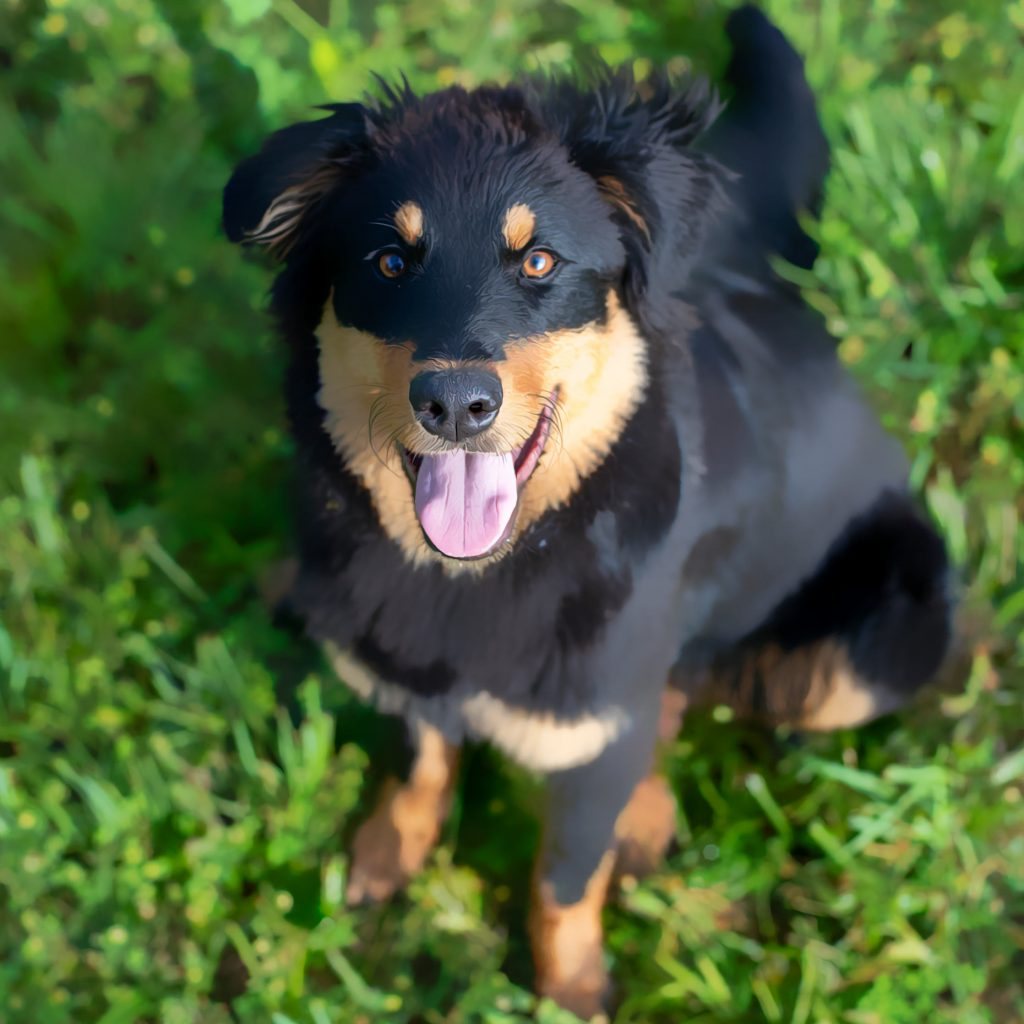 What is the goal of your English shepherd breeding program?
The goal of my breeding program is to produce extremely fit, people-oriented, rural companion dogs.  The English shepherds I breed will enthusiastically accompany their owners throughout the day while doing chores on the farm, ranch or otherwise enjoying outdoor recreational activities.  As a dedicated and loyal companion, my dogs will prefer to come in the house at night where they are able to amicably spend evenings with their primary human, family members and other pets.
How do you select your English shepherd breeding stock?
I select breeding stock from English shepherd dogs who are people oriented as well as physically, emotionally, and genetically fit.  To be in my breeding program, I want a dog who is primarily focused on his or her human, and a dog who is not easily distracted.
I use DNA health screenings on all my breeding dogs.  DNA lab results are published publicly for any dog I breed.
I use OFA certified hip screening for my breeding dogs.  Normally, my breeding dogs are screened for hips in their second year of life.  In the rare case where a selected breeding dog is older than 8 years of age, he or she will be personally screened by my veterinarian for breeding fitness without hips radiography. I do not feel comfortable anesthetizing older dogs unless absolutely necessary.
How do you care for your adult English shepherd dogs?
I believe that nutrition, sunshine and exercise are 3 of the most critical facets of a dog's physical health.   In addition to supervised feedings of premium dog food, I have a dedicated one acre pasture that is fenced in with two large day runs.  One of the day runs is 250′ by 150′, and the other is 150′ x 100′.   Each of my adult dogs is given about 4 hours per day in one of these day runs.  The day runs are only for daily exercise and training.  My dogs do not spend the night in the runs.  My intact female dogs sleep indoors with me.  My intact male dogs sleep in sheltered kennels.
My English shepherd dogs are fed measured amounts of premium dog food, twice daily for every day of their lives.  Pregnant females require more nutrition and are fed more than twice per day.  In general, I'm much more comfortable with diets that have research backing their safety and efficacy for pets, have been tested using feeding trials and have ingredients that have been shown over time to provide the necessary nutrients an animal needs for health and well-being.  I feed Purina Pro Plan to my adult English shepherd dogs and puppies.
How do you raise your English shepherd puppies?
For raising litters, I believe in the Puppy Culture program.  I own the original Puppy Culture DVDs, which I regularly review.  I use the Puppy Culture Workbook for Breeders.   I find the PC Workbook's charts, records and worksheets provide me with a proven, prescriptive guidance which allows me to focus on each puppy and enjoy the litter raising process.
I have a dedicated, climate controlled room where I whelp litters.  The flooring is friendly to puppy hips.  The whelping box itself is lined with vet's fleece.  And the weaning area is lined with yoga mats for good traction.  I keep a military cot in this dedicated room, where I sleep at night with the dam and her pups.  As a prospective puppy buyer, I will share photographs and video with you so that you can see the environment and the process.
Can I visit your breeding facility?
You are invited to visit my ranch at any time. Unlike many breeders you'll encounter, I will never give you some lame excuse as to why you can't visit.  I have been a puppy buyer many times.  And I have been given every excuse under the sun why I couldn't come visit.  I won't buy a puppy from someone like that, and neither should you.  My process, procedures and facilities are an open book for you to inspect and review.  I am proud of what I do, and I will probably bore you to half to death.  Just ask my wife.  🙂 Seriously though, as a prospective puppy buyer, contact me to arrange an appointment to come visit Roanoke Creek Ranch.  Prior to your visit, I will ask for a copy of a photo ID.  Upon your arrival, I will ask for you to follow Covid-19 safety protocols.
One exception will be when young puppies are being whelped and weaned.  Young puppies have delicate immune systems.  Depending upon the timing, I may ask you to delay a visit by a few weeks in order to protect a young litter.  In any case when puppies younger than 16 weeks are present, visitors will be asked to disinfect hands, shoes and clothes with a safe and effective hydrogen peroxide based disinfectant solution. 
I think people should know where their dogs come from, how their dog's parents are treated.  But in these days of internet dog sales and social distancing, I understand why not every one can come visit.  So, I believe in sharing a lot of photos.   The entire whelping and weaning process will be well-documented with photos and videos for you to view.
What do you expect from your English shepherd puppy buyers?
As an early retiree and rural landowner, I am blessed to be a full-time dog dad.  My ideal puppy buyer will also have the time, dedication, and resources to spend a considerable amount of time with his or her companion dog.  I want a buyer who is looking to include his or her new companion in almost every facet of the day.  And I prefer a puppy buyer who is willing to educate himself or herself in canine nutrition, evidence-based canine care, and positively reinforced training methodologies.
My puppy sales contract stipulates that the puppy is being acquired solely as a family companion dog or as a working dog, to be used for tasks and sports appropriate to the breed.  The contract also stipulates that the buyer(s) agree that he/she/they will not sell, give away or otherwise transfer ownership or possession of the puppy to any person or organization without consultation and explicit consent from me.
Powered by HTML5 Responsive FAQ