The Rutherford Courier, Smyrna, Tennessee, July 21, 1953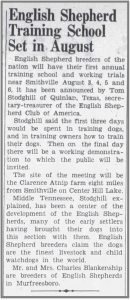 English Shepherd breeders of the nation will have their first annual training school and working trials near Smithville[1]Smithville is in DeKalb County, Tennessee August 3, 4, 5 and 6, it has been announced by Tom Stodghill of Quinlan, Texas, secretary-treasurer of the English Shepherd Club of America.[2]English Shepherd Club of America (ESCOA), Farm Shepherds Illustrated
Stodghill said the first three days would be spent in training dogs, and in training owners how to train their dogs. Then on the final day there will be a working demonstration to which the public will be invited.
The site of the meeting will be the Clarence Atnip farm eight miles from Smithville on Center Hill Lake.
Middle Tennessee, Stodghill Explained, has been a center of development of the English Shepherds, many of the early settlers having brought their dogs into this section with them.[3]Black and Tan Shepherd Farm Dogs In Use Prior to 1900, Farm Shepherds Illustrated English Shepherd breeders claim the dogs are the finest livestock and child watchdogs in the world.
Mr. and Mrs. John[4]Correction made, as the original article mistakenly says Charles Blankenship are breeders of English Shepherds in Murfreesboro.[5]Blankenship Sales Brochure, Farm Shepherds Illustrated